ALL HUMAN BEINGS ARE BORN FREE AND EQUAL IN DIGNITY AND RIGHTS.
United for Human Rights (UHR) is an international, not-for-profit organization dedicated to implementing the Universal Declaration of Human Rights at local, regional, national and international levels. Its membership is comprised of individuals, educators and groups throughout the world who are actively forwarding the knowledge and protection of human rights by and for all Mankind.
FIND OUT MORE ABOUT HUMAN RIGHTS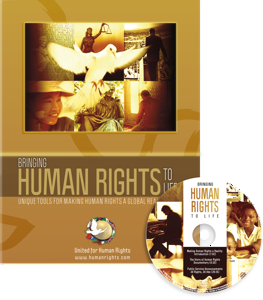 A DVD with an introduction to our worldwide human rights program; the award-winning educational film The Story of Human Rights; and 30 public service announcements depicting each of the articles of the Universal Declaration of Human Rights.
Order a Free United for Human Rights Information Kit
THE PUBLIC SERVICE ANNOUNCEMENTS
SUBSCRIBE FOR UPDATES AND WAYS TO HELP
NO THANKS
CLOSE